Shadows (wall disease) @ The Sculpture Center, Cleveland (2014)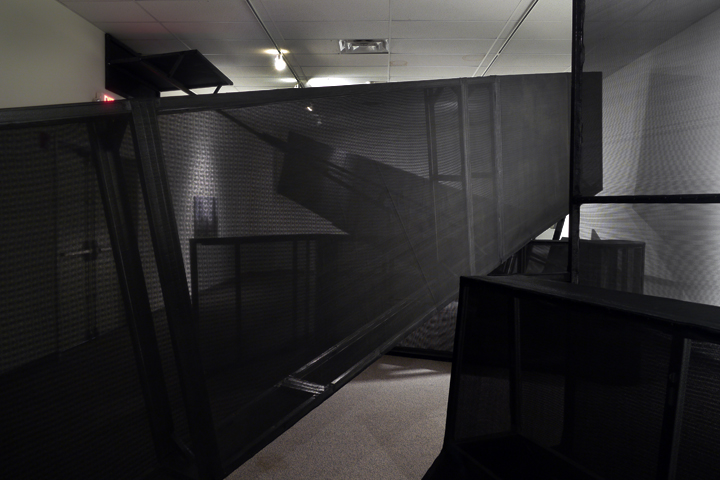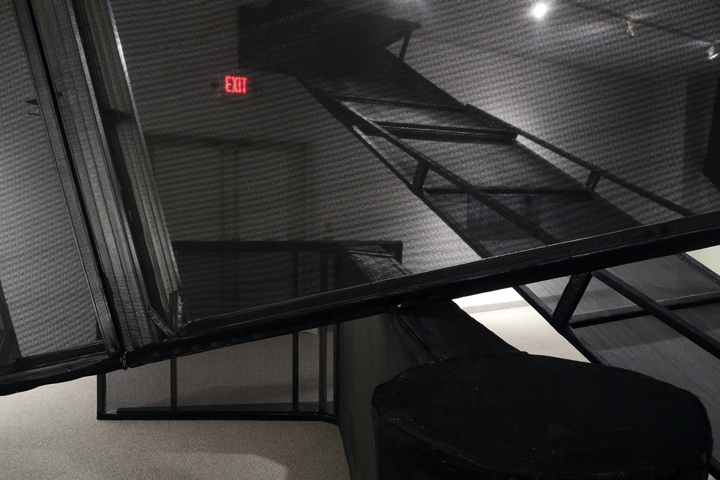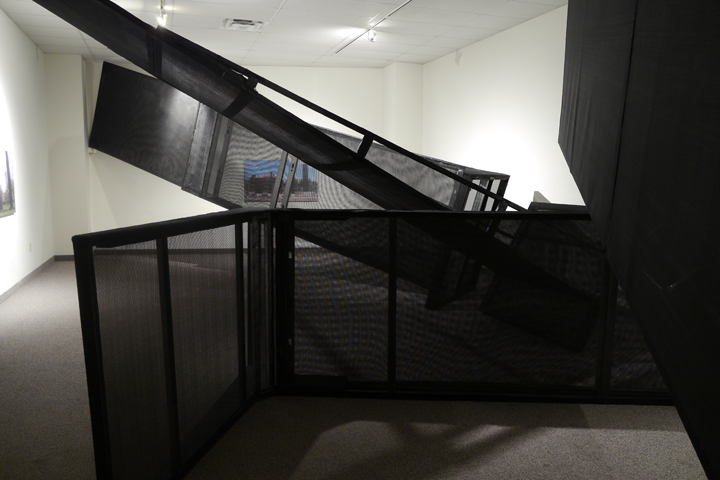 Shadows (wall disease) 2014 - Installation view, mesh on steel studs, digital prints
In 2010 part of downtown Toronto was sectioned off by a security fence built for a G20 Summit. Along with intense police presence the structure transformed the city into a confusing and frightening scenario never before experienced. Shadows: Wall Disease responds to this occurrence and looks at world events that influenced the psychological need, physical manifestation and the resulting cultural implications of these barriers.
Wall Disease (Mauerkrankheit) was a term first used in 1973 by the East German psychiatrist Dietfried Müller-Hegemann. He observed that the Berlin Wall caused psychosis, schizophrenia, and phobias in the East Germans who were confronted by it on a daily basis. Today sections of The Wall continue to snake through parts of the city memorializing its historical significance. There are over 100 sections on display in cities throughout Europe, the UK, Asia, South Africa and the Americas. You can buy fragments of the wall in gift shops. Yet at the same time new walls continue to be implemented through out the world.
Shadows: Wall Disease recreates life size sections of five barriers at various stages of existence, from implantation to the celebrated historical monument, and places them temporarily in sites in and around Toronto, Canada. Included are the Security Fence used during the 2010 G20 Summit in Toronto, The Berlin Wall, The Peace Line Walls in Belfast, Northern Ireland, the border fence between Nogales, Sonora / Arizona, and the West Bank Separation Barrier in Israel / Palestine. The forms are framed with metal and covered in shade cloth. They physically delineate the space that these barriers occupy in real life and are meant to appear as shadows, mental after-images.
The Main Gallery at The Sculpture Center is carpeted and features a drop ceiling. Even though the space was designed to be a gallery it could be seen as a repurposed office or storage space. Inside the forms are abstracted as they overlap one another and lean against the gallery walls. Here they function more as visible and physical barriers, forcing you to navigate around and underneath them. Within this confusing cluster smaller claustrophobic spaces features printed images of the structures in-situ. Here they appear monumental.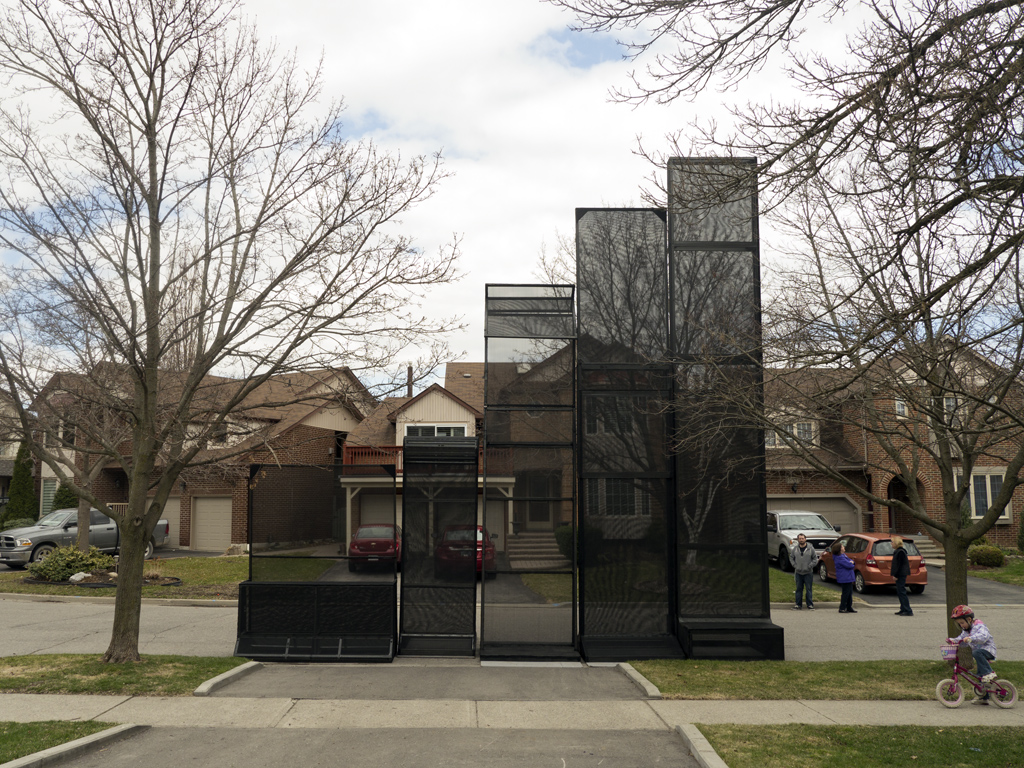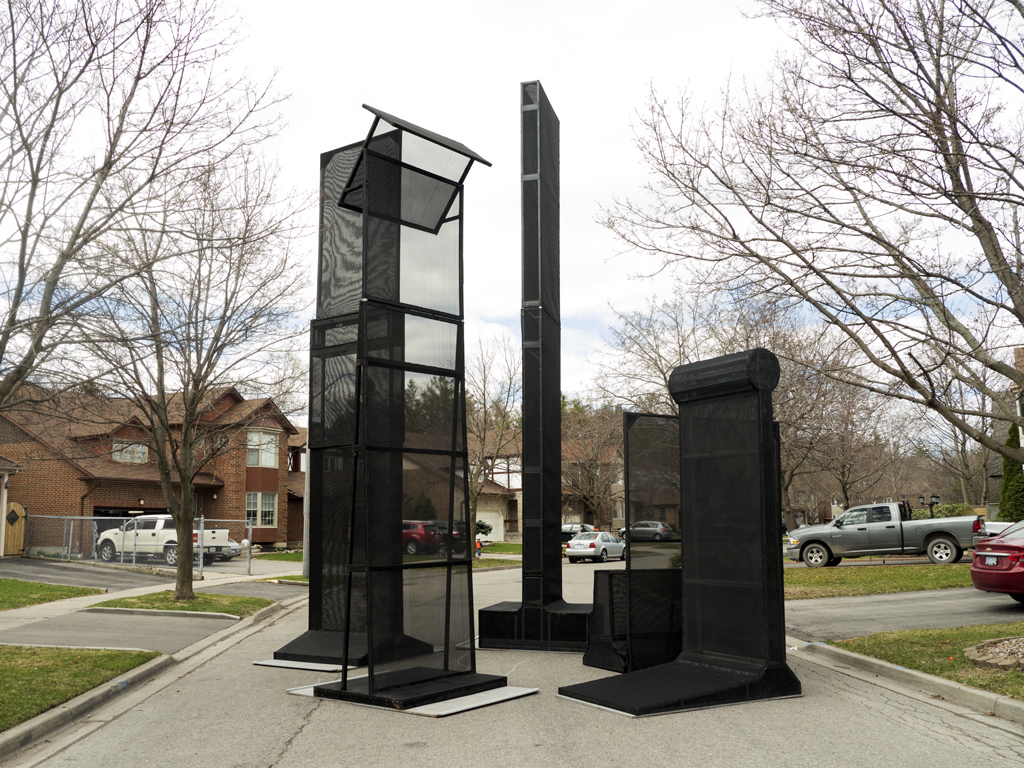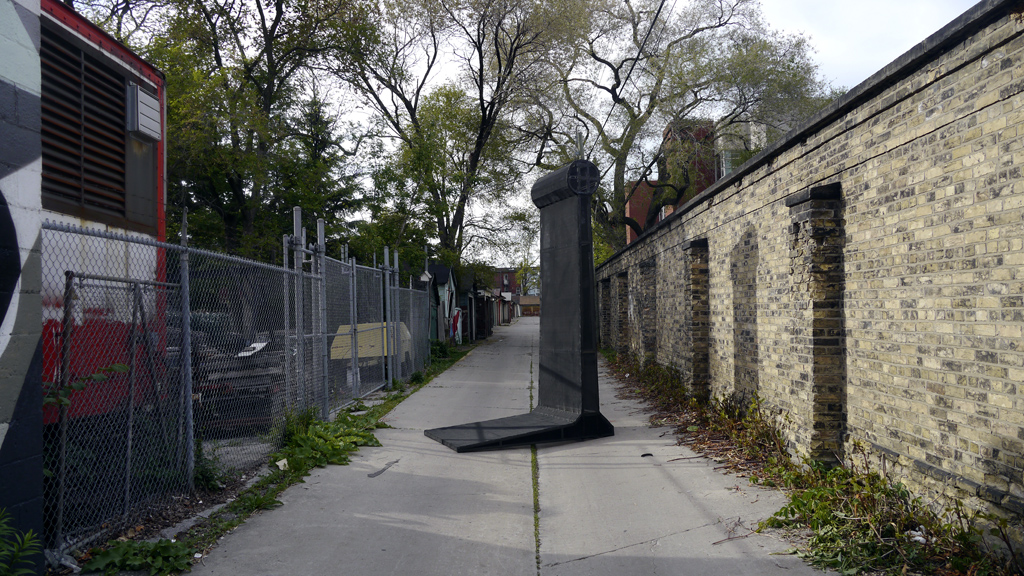 Shadows (vacant lot) 2014
Shadows: Wall Disease was inspired in part by our use of public monuments and the ways that history is or isn't critically engaged, interpreted and remembered. It questions the ways in which our histories overlap and how we relate to one another. Globalization, socioeconomic inequality, and racism are some of the overriding issues of our time. This work addresses the ways in which these ideologies are manifested in the built environment and the resulting psychological effects.
Exhibition history:
Beit Zatoun House, Toronto, ON, 2015
The Sculpture Center, Main Gallery, Cleveland, Ohio, 2014
Museum of ReClaimed Urban Space & La Plaza Cultural, New York City, NY, 2014
Publication history:
Gil McElroy, "Ryan Legassicke: Wall Disease," re:sculpt, blog.sculpture.org, June 24, 2015.
Douglas Max Utter, "Window to Sculpture Emerging Artists Series," Sculpture Center, Cleveland, pg 14-15, 2015.
"Making, and breaking barriers around the globe," East Villager, New York City, Oct.16, 2014, pg 3.
Ann Albano, "Breaking Boundaries at The Sculpture Center," Can Journal, Cleveland, Ohio, Summer 2014, pg 42.