States of Security / Security States @ Eastern State Penitentiary Historic Site, Philadelphia (2012)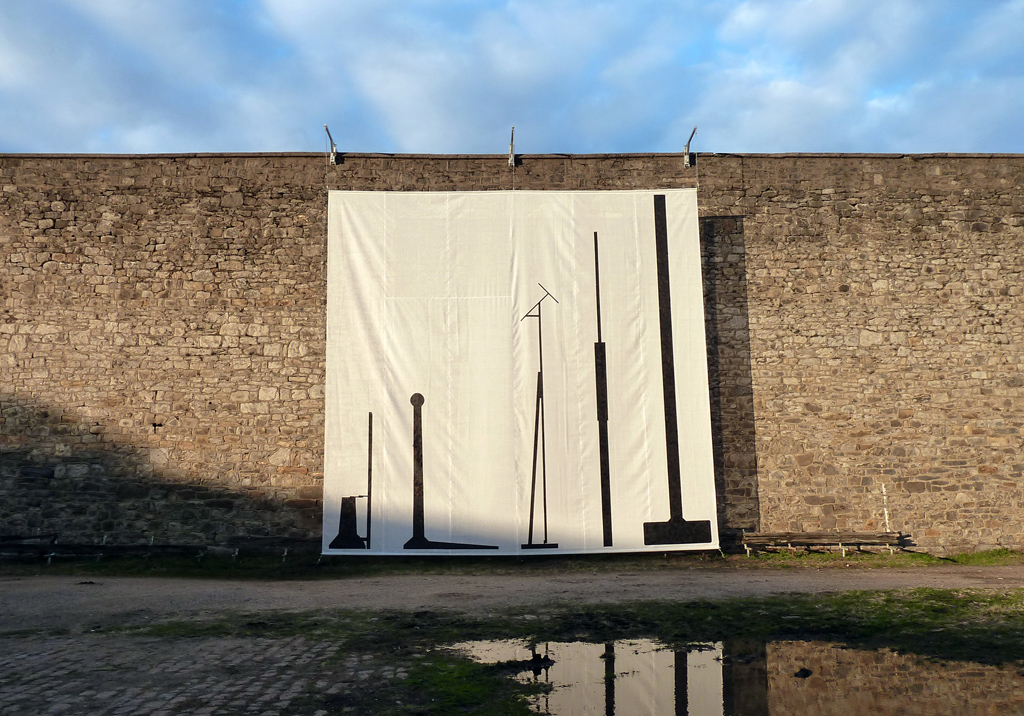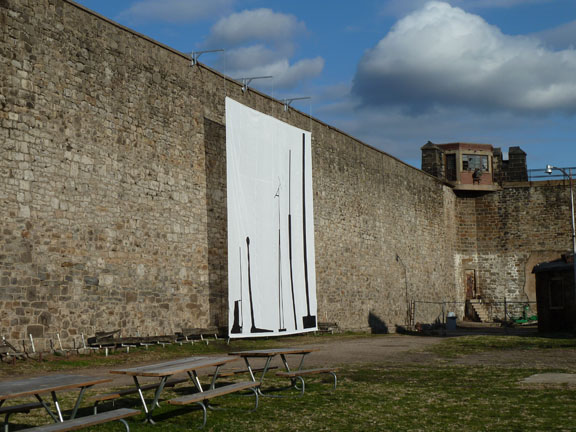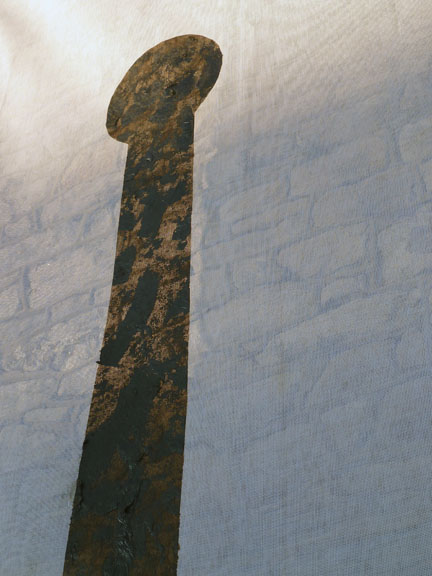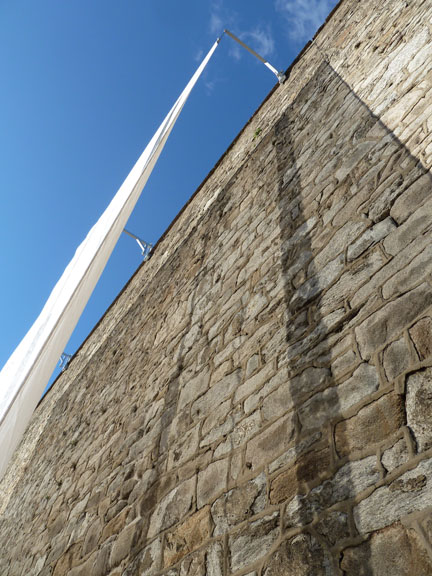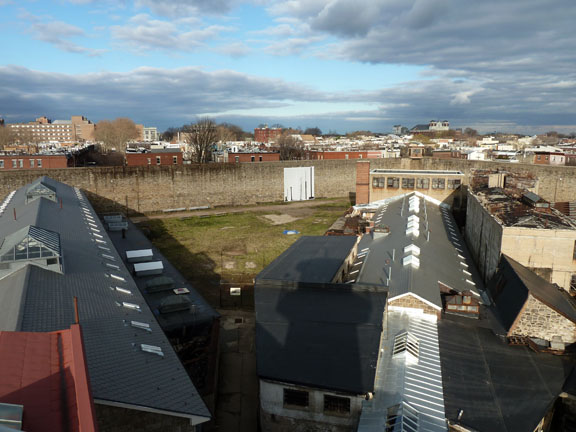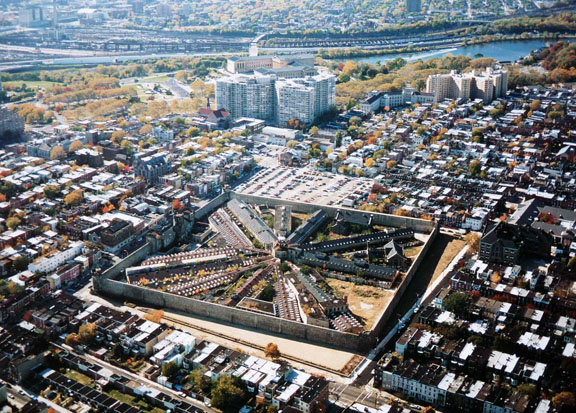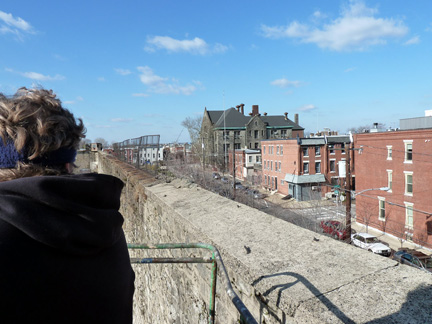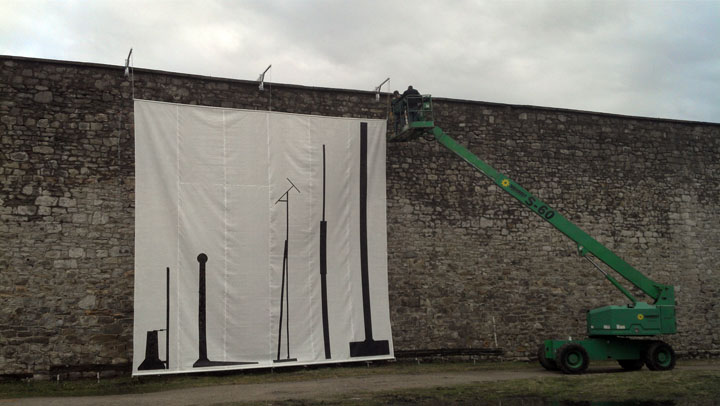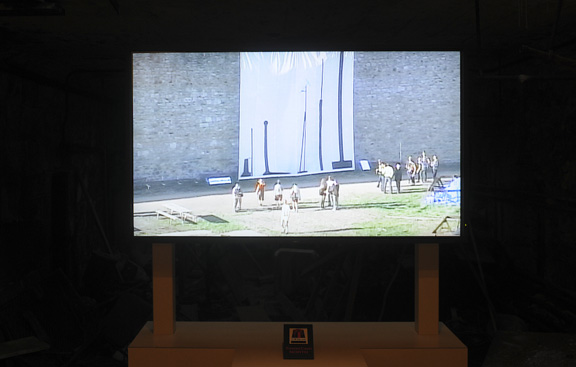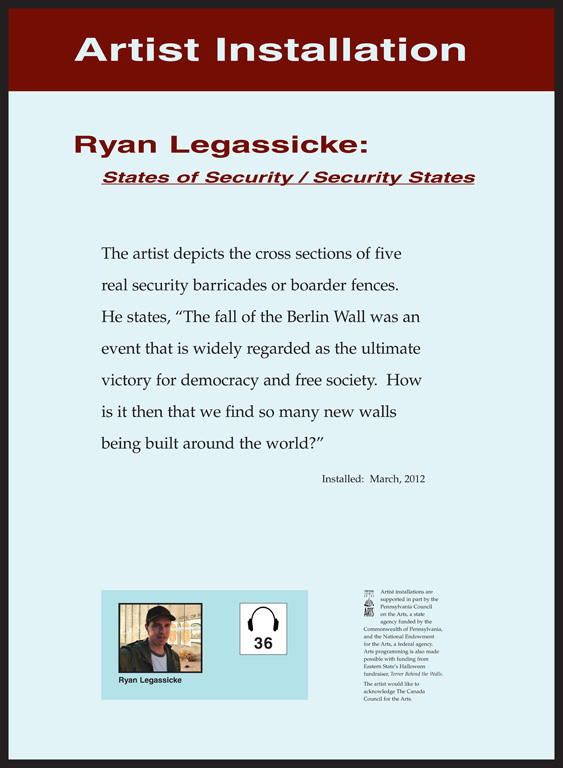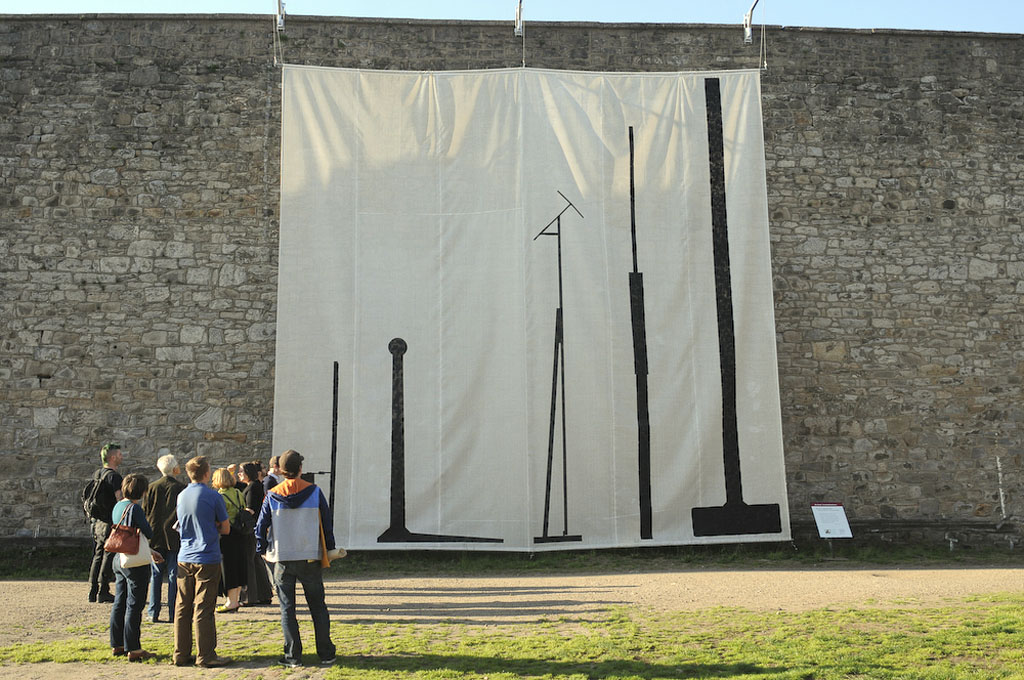 States of Security / Security States, tar on mesh, 2012
States of Security / Security States, tar on mesh, 2012
States of Security / Security States, (detail) tar on mesh, penitentiary wall, 2012
States of Security / Security States, (detail) tar on mesh, penitentiary wall, 2012
States of Security / Security States, tar on mesh, 2012
Eastern State Penitentiary Historic Site, Philadelphia, ariel view, Andrew J. Simcox, 1997, courtesy ESPHS
View of the top and over the penitentiary wall, 2011
Installing States of Security / Security States
View from the historic security camera
View during the spring opening @ ESPHS, 2012
[spacer height="20px"]
Using the outer (border) wall which surrounds Eastern State Penitentiary Historical Site in Philadelphia, Pennsylvania, States of Security / Security States depicts life size cross sections (from L to R) of the security fence used during the 2010 G20 Summit in Toronto, the Berlin Wall, Germany, the USA / Mexico Border Fence in Nogales Arizona / Sonora, the Peace Line Walls in Belfast, Northern Ireland, and the Israeli West Bank Separation Barrier. The work is approximately 30′ sq, tar on mesh, and suspended 36″ off the penitentiary wall. Each wall is a result of a unique context yet they all share a similar purpose, and they are all connected. For those of use who do not live in the shadows of these structures, our experience of these places is solely though representations which results in an incomplete and abstract understanding of their fundamental impact on the world. Would we support the use of such force in our own neighborhoods? Do we support their use in other parts of the world? Eastern State Penitentiary Historic Site can be seen an example of how architecture can be designed to control and influence social relations.
[spacer height="20px"]
In 1973 the East German psychiatrist Dietfried Müller-Hegemann observed that the Berlin Wall caused psychosis, schizophrenia, and phobias in the East Germans who were confronted by it on a daily basis. This syndrome was known as Mauerkrankheit – Wall Disease. The subsequent fall of the Berlin Wall sixteen years later was an event that is widely regarded as a victory for democracy and free society. How is it then that we find so many new separation barriers and security fences being built around the world, even in Toronto? Why do the same cultures that once celebrated now implement in their own countries that which they were adamantly against?
[spacer height="20px"]
Eastern State Penitentiary was conceived and build in the early 1800s and is located within walking distance to the Museum of Modern Art in Philadelphia. The buildings design and the structure of control was based on strict solitary confinement for all inmates. The intent was that the environment would inspire penitence and therefore reform. Eastern State would later serve as a model for over 200 penitentiaries built around the world. The building was abandoned for 20 years beginning in the early 1970s. Like the remains of the Berlin Wall it is presently being maintained as preserved ruin. This project acknowledges the social reality of life in Philadelphia, past and present, in the presence of Eastern State Penitentiary and considers it in a larger context.
[spacer height="20px"]